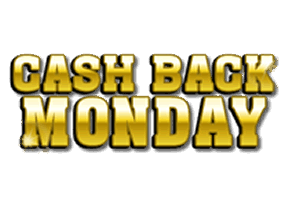 We offer you our special Monday Cash Back bonus day.
Deposit a minimum R1,000 for the day and get up to 40% back for all your deposits made from 00:01 to 23:59 on (every) Monday.
Simply send us an email requesting your Cash Back bonus by 11:59 a.m. on Tuesday. Your casino account will be credited with the amount of your bonus.




Bonus levels:

Deposits €100 to €1,000 - 20% Cash Back bonus

Deposits €1,000 to €5,000 - 30% Cash Back bonus

Deposits €5,000 and over - 40% Cash Back bonus

Terms and Conditions:
Please note that Standard Terms and Conditions apply for this promotion.